In his 2012 book. "Season Of The Witch" author David Talbot chronicles the decline of San Francisco's flower children scene of the 60's into hard drugs, violence and crime. Within a few short years, a counter-culture revolution that promoted egalitarian values, shared assets and experimentation became a caricature of itself  and then turned ugly.
Fifty years later another revolution in was born in San Francisco with similar optimistic values of sharing and common purpose. This modern revolution is centered around transportation and unfortunately, lacks stewardship and has begun the same downward spiral.
POSITIVE BEGINNINGS
The early 1960's began with an optimistic big-picture view of the world that included the Peace Corp, racial equality, feminine rights, sexual freedom and a willingness to overturn irrelevant or outdated rules and regulations. The city of San Francisco, home to a strong beatnik culture and a large student population, embraced this movement with a communal spirit and open drug experimentation. San Francisco's Haight Ashbury neighborhood offered cheap rents and was close to the campuses of San Francisco State College and University Of California Medical Center. Here new art and music found a home among students living there. Concerts and gatherings soon attracted the press, newspaper columnist Herb Caen crowned these kids "hippies" and the word spread. Nationwide, newspapers and TV publicized a festival of fun, music, sex and drugs.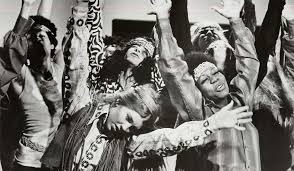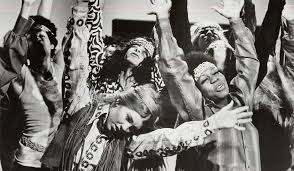 Beginning in 2009 another transportation revolution was fueled by huge advantages brought about by the web, mobile devices and GPS location/navigation capabilities. Several companies sprung up promoting a technology based "ride-sharing" revolution by empowering regular vehicle owners to become "citizen chauffeurs" providing transportation to compete with regular taxi-cabs. As social media and other means of web communication had overtaken old social constructs, these game changing startups argued just as their 60's predecessors had that the old rules needed to be thrown away. But this time the public and politicians were on board for the changes as taxi transportation was widely perceived a inefficient, unavailable, and unaccountable. The California Public Utilities Commission even gave them a new regulatory grouping, naming them "Transportation Networking Companies (TNCs)" agreeing that they were not the end provider of the rides, but rather middle-men that merely connected civilian drivers with passengers. This "ridesharing revolution" initially had much of the same communal feel as it's 1960's predecessors. Early riders were told that they could "donate" to a driver who gave them a lift to where they needed to go. Riders were encouraged t0 sit in the front seat alongside the driver, give them a fist bump and engage in friendly conversations. Drivers were encouraged to stock the car with mints, gum and phone chargers and play the rider's favorite music on the car stereo, even to plug the rider's mobile device into the dash while en route to the destination.
NO GATEKEEPER
Unfortunately, both revolutions also shared some common shortcomings that produced a downward spiral for their participants within a few years. One problem for the social experiment of the 60's in San Francisco was that no one was in control of who participated in the swelling counter culture scene. As the national press fanned the flames of this cultural revolution, disaffected youthful pilgrims from around the country hitchhiked, drove, or took the bus to San Francisco and arrived with little or no money or place to stay. They quickly squatted on the sidewalks, slept in the nearby Golden Gate Park and panhandled for sustenance. San Francisco's bohemian scene was proud of the contributions that locals had made to literature, art and music, but these new arrivals brought little to contribute and frequently were ignorant of where the scene had come from. In short time, locals withdrew the welcome mat and adopted a new anti-pilgrim view that spawned spiteful larceny and then serious crime. Entrepreneurs sold these naive arrivals baggies of oregano as marijuana and resin incense as hash. Shoving matches and fist fights soon broke out on key street corners between competing drug dealers.  Then scammers hung out at SF's Greyhound bus station hitting on any young person arriving with a backpack, offering drugs or a place to stay. These travelers awoke the next morning to find their belongings gone. Local markets had to hire guards as youthful shoplifters "liberated" meat and groceries. The shop lifting spread along the street to head shops and fashion boutiques. The counterculture promise had morphed into a serious problem.
The rapidly expanding rideshare revolution also quickly lost its happy face. The TNCv companies frequently overstated potential earnings to potential drivers, provided inadequate insurance coverage for the driver's personal cars, and were unwilling to deal with driver injuries and financial losses. Many early TNC drivers were well educated and came from professional backgrounds. Their interest in driving was frequently for additional cash, social interaction or to fill the gap between other full time gigs. They were disappointed to learn that many passengers, inexperienced in being driven by a chauffeur, treated drivers in a very condescending manner. Within a short time the rideshare driver's welcome mat was withdrawn.  The mints and gum disappeared and a growing number of arguments broke out between drivers and passengers, some resulting in physical assaults of drivers. As this early wave of drivers left the system, the TNCs advertised aggressively using more  promises of inflated earnings to recruit replacements and also added steep hiring bonuses. Another problem arose through referral bonuses given to TNC drivers for recruiting new applicants. Hundreds of dollars were offered for bringing others onboard. Just as the early arrivals to the Haight Ashbury turned to exploiting later arrivals, TNC drivers promoted new drivers into the systems reaping thousands of dollars in referral fees. Some opportunists even started websites, YouTube channels and FaceBook groups, all promoting an embellished narrative of making big money as a driver if they signed up using  the promoter's referral code. But as a contrary word spread on the web about the realities of TNC driving, a different profile of applicant appeared. Many were immigrants who had little choice about a job that fed themselves and their families. But a darker component began to appear among the driver ranks in 2015. Some new drivers had prior criminal backgrounds but had found loopholes in the  TNCs' sloppy recruiting process and got hired. Others had troublesome personal backgrounds, prior conflicts in the workplace or personality disorders. Because the TNCs did no reference checking or prior employment review, these troubled characters were admitted to the driver pool .This broken system became increasingly vulnerable to misfits and predators and began to change the profile of TNC service quality. Both of the two major U.S. rideshare companies, Uber and Lyft, use an on-line driver application process that can easily be tricked. Then, after hiring the drivers, neither of them have any on the job supervision or support. Drivers are left with little resources to deal with the unique details and problems of operating a vehicle for hire. The more they drive, the higher the level of frustration. ,Many ethical drivers become angry and embittered about the TNC's deceptive payment schemes. Drivers with empathetic social values, the ones that can define the best experience for customers, become discouraged and drop out or scale back their driving. Slowly, the personal profile of TNC drivers and the behavior they bring to the job spiraled down. 2015 saw an alarming increase in assaults and rape accusations for TNC drivers, and 2016 added cases of shootings, driver rage and other bizarre behavior that pointed to an increasingly unstable service personae.
NO ECONOMIC MODEL
Though 50 years apart, both of these revolutions also lacked economic foundations,  and relied on outsider subsidies prolong their ideology.  In the 60's, lifestyles of communal living and free concerts provided no real economic foundation A group called the Diggers was formed to feed the swarm of arrivals and then sympathetic doctors formed free clinics to deal with the drug overdoses and sexualy transmitted deseases. Though humanitarian in nature and sorely needed, these subsidies blurred the narrative and allowed the press to continue to tout the happy benefits of the counterculture movement to the nation. When the summer of 1967 finally arrived, many in the Haight Ashbury had already moved to safer places but the press proudly touted the "Summer Of Love", around the country. But for many locals the love was already gone.
With an failing economic model the rideshare revolution devolved the same way in just a few years. To disrupt established taxi services, the new TNCs hired layers of expensive software programmers, marketing professionals, lobbyists, and lawyers. Then came the fancy offices and middle managers to coordinate the rapidly expanding businesses. These were all costs not borne by simple taxi services. Soon, the TNCs found out that after trying the rideshare services, not all the customers become repeat users. To combat the declining use in established markets, TNC services lower their prices below their taxi competitors and then lowered again to undercut their own TNC competitors. Faced with huge cash outlays, the rideshare revolutionaries reached out for investor cash again and again, scoring billions of dollars from venture capitalists and investment funds. Again third party financial support prolonged the experimentation but perhaps to its own detriment.
The rate changes took a great toll on the drivers themselves.The early generation of TNC drivers were faced with the fixed costs of providing the vehicles and the fees they had to pay the TNCs for connecting to passengers. As the TNCs reduced rates to hold up passenger volume the drivers suffered great losses. A 20% reduction in rates to the customer meant a 35-40% reduction in income. TheTNCs also increased their cut of the charges to the customer and added fees that the driver did not get a portion of.But the growing dissatisfaction was not limited to just pay structure. In order to make the rideshare service the most convenient, the TNCs deliberately over staffed the field with drivers. There was no downside for the TNCs with this plan, but the drivers now had to wait longer every day to get fewer and fewer rides. Protests broke out around the U.S. and in overseas markets that the TNC had expanded to. Some areas even organized "strikes" and boycotts. By 2015 the web began to fill with social media sites where drivers could vent their anger.
NO POLICE;
The lack of law enforcement provided an initial boon for both revolutions but eventually proved to be a large factor in their unraveling. In the 60's the police largely ignored the open drug sales and use happening on the street, the homeless camping in nearby Golden Gate Park, as well as growing petty crime. Surprisingly, even local hospitals refused to treat drug overdose cases. Whatever the problems were, it seemed to many locals that these people had brought it on themselves. Even when a heroin epidemic swept through the Haight Ashbury in the early 70's it was left to the locals to chase out the dealers. The Haight had turned into a teenage slum of robbers, rapists, and speed freaks.
The TNC model was created with some rules but had no means of enforcement. The California Public Utility Commission set rules about insurance requirements for drivers and vehicle markings but had no program or staff to verify compliance. Because the citizen chauffeurs required no special license and only an app to do the job, anyone could log into the system and perform the work. Accounts were loaned to family members and friends and unverified vehicles were substituted ad hoc. What little enforcement was done was provided by airport police and they found a startling number of drivers with no license, no insurance and driving unauthorized vehicles. Finally fake drivers learned to hustle like a real TNC vehicle, taking cash, driving without insurance, assaulting and robbing passengers.
Increasingly, passengers also had difficulty getting matched with the proper TNC vehicle and driver. Now came the TNC equivalent of the 60's oregano dealer. Imposters found it easy to shout the name of a TNC service and offer to drive the passenger for cash. With little record of this private transaction, the Haight Street Hustle was reborn anew.
Just as Haight Street became over-run with panhandlers, along with real and fake drug dealers, San Francisco's popular SOMA and Mission District streets are now jammed with real and fake TNC drivers.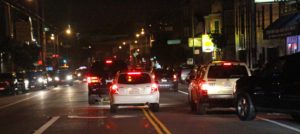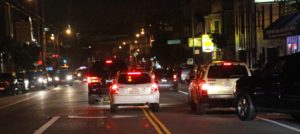 Just as the street hustlers of the 60's looked for youthful easy marks sporting short hair, wire rimmed sunglasses, a new floppy hat and a backpack, today's street hustlers, armed with an Uber or Lyft decal bought on eBay, look for youthful pedestrians staring at a cell phone on a sidewalk If the mark on the street is needing a ride, a cash deal is made on the spot.  Many cash passengers do indeed make it to where they need to go, but police blotters are increasingly filled up with cases of robbery, assault and rape. Because the transactions take part outside of the TNC reservation system, there is little chance of tracking down perpetrators.  This scene is now repeated across the U.S. and abroad. Passengers are not the only ones falling victim to the hazards of these impromptu hook-ups. Today in Sao Paulo Brazil where Uber has grown rapidly and allows cash to be paid for official rides robberies and murders of drivers have grown tenfold with at least 140 verified attacks per month. 
Not only do real and fake drivers solicit cash business but passengers that are intoxicated, have dead cell phones or are not registered with a TNC have learned to aggressively proposition drivers to transport them for cash. The situation is so extreme that in cities like San Francisco, Boston, and Washington DC, drivers of Toyota Priuses that come to a stop light find strangers jumping into their cars, thinking it is a TNC vehicle. When these prospective passengers are alerted to their mistake, many times they proposition the stranger to take them anyways for cash. Their trips put the pedestrians and other drivers at risk because no insurance is in effect outside of the TNC systems.
If history is to look back on a turning point in the spiral down for TNC's, it might be 2016 when the news items of violence, driver strikes and economic analysis of long term prospects for TNCs finally turned negative.
In September of 2016, the New York Post reported on scores of fake Uber drivers outside of that year's U.S. Open tennis tournament. The drivers were waving homemade placards with Uber logos and soliciting rides for cash. Two months later the Minneapolis Star Tribune reported on drivers jammed outside of a concert, again waving hand made signs and offering "Uber" rides for cash. The same newspaper reporter later went to a Minneapolis bar district and witnessed drunk passengers banging on car windows offering cash to be taken elsewhere. Their report included:
"At least five women in the Twin Cities have been abducted or assaulted by men who presented themselves as Uber drivers in the past two years, police reports show. In Atlanta, Los Angeles and other cities, men pretending to work for Uber have been charged with attacking women after luring them into their cars. Chicago police warned last year of robbers posing as Uber drivers."
This sad decline continues to accelerate. Of all the reported assaults by TNC drivers to date, 70% have occurred within the last year.
Just in the Last 60 days:
January 2016 an Uber driver was charged with stomping a passenger's head, breaking his facial bones and leaving him bloody and unconscious because he asked to be driven from Philadelphia to his home in New Jersey 9 miles away.

An Uber driver beat a passenger with a bat for "getting snow in the car from his shoes."

An Uber driver ran down a disabled bicyclist and then punched him unconscious.

At the beginning of December, a driver stabbed a passenger multiple times in his chest, back and face after the passenger tapped on the car's window before entering the vehicle. The driver thought the tapping was "disrespectful to the vehicle."

On Christmas eve, Lyft woman driver stabbed her passenger 5 times in the neck over a disagreement about the number of passengers for the ride.
These San Francisco based tech startups stand in stark contrast to their tech brethren as to their relation with their driver employee base. While other tech companies coddle their employees with free food, childcare, transportation and a slew of other services, the TNCs continue to set new standards of worker abuse.
But the slide downward does not have to continue. TNCs can  make their service safe for all by applying the standards used by other service and hospitality industries. They should:
hire drivers that exhibit proper communication and social skills.

interview drivers, give them driving tests, check references and work history. This will go a long way towards weeding out social misfits and predators.

provide a fair and empathetic work environment to foster a company culture of care and value to both the customers and workers.

modify the software so that only assigned drivers and correct passengers match up at the beginning of the ride.

create signage for the cars that cannot be duplicated of forged. Pizza delivery vehicles are good examples.

educate the public and passengers about the dangers to themselves and the public by hiring fake drivers or by using TNC vehicles outside of the systems. Besides putting passengers at risk, the lack of insurance puts pedestrians and other drivers at risk as well.
The web, mobile devices and GPS location technology offers a great advance in secure, trustworthy and fair transportation. But only if it is implemented properly. States and municipalities need to step up to the plate by setting standards that blend the benefits of game changing new technology with time proven practices of reinforcing good behavior on the part of workers.
And they need to do it before the problem gets worse.