Track The Success or Failure Of Web Based Transportation and On-Demand Startups Around The World
View companies' daily web rankings and trends via Alexa's traffic reporting service. Click the links below to view Alexa's  graphs of web browser access volume for the last year, updated daily.
See how a company's web traffic compares on a scale of popularity (ex. Google=#1). Note, data does not reflect access via apps.
From Alexa, Amazon's Web Tracking Service.

Alexa is a "freemium" site with some information free to viewers, and more detailed information available to paid subscribers. To sign up to one of Alexa's subscriber plans
click here.
Follow The Rise And Fall Of Global Enterprises As The Web And Mobile Devices Change The World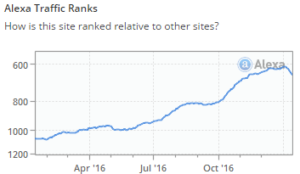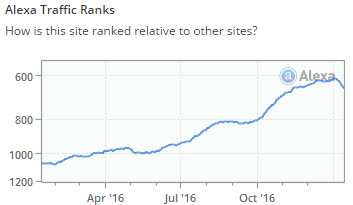 Follow game changing companies as they grow on the web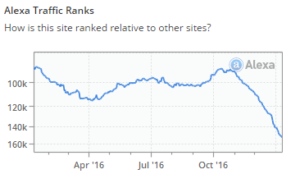 Some of the best ideas run out of steam.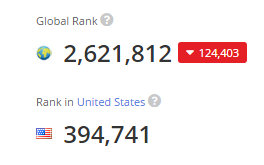 Websites that rank below 1 millionth
do not display a graph.
Worldwide On-Demand Transportation Apps -Ride Sharing, 
Car Sharing, Shuttle, Taxi & Limousine
Worldwide On-Demand Logistics, Messenger & Food Delivery Apps
Worldwide App Based On-Demand & Sharing Economy Services
Would you like to suggest other on-demand and sharing economy start-ups to be listed here?

eyJpZCI6IjExIiwibGFiZWwiOiJBbGV4YSBTdWdnZXN0aW9uIiwiYWN0aXZlIjoiMSIsIm9yaWdpbmFsX2lkIjoiNSIsInVuaXF1ZV9pZCI6ImJzbzE1aSIsInBhcmFtcyI6eyJ0cGwiOnsid2lkdGgiOiIxMDAiLCJ3aWR0aF9tZWFzdXJlIjoiJSIsImJnX3R5cGVfMCI6ImltZyIsImJnX2ltZ18wIjoiaHR0cHM6XC9cL3JpZGVzaGFyZWp1c3RpY2Uub3JnXC93cC1jb250ZW50XC91cGxvYWRzXC8yMDE3XC8wMVwvQWxleGFVcDIucG5nIiwiYmdfY29sb3JfMCI6IiMzMzMzMzMiLCJiZ190eXBlXzEiOiJjb2xvciIsImJnX2ltZ18xIjoiIiwiYmdfY29sb3JfMSI6IiMwMDAwMDAiLCJiZ190eXBlXzIiOiJjb2xvciIsImJnX2ltZ18yIjoiIiwiYmdfY29sb3JfMiI6IiMwMDAwMDAiLCJiZ190eXBlXzMiOiJjb2xvciIsImJnX2ltZ18zIjoiIiwiYmdfY29sb3JfMyI6IiMyNmM3ZWYiLCJmaWVsZF9lcnJvcl9pbnZhbGlkIjoiIiwiZm9ybV9zZW50X21zZyI6IlRoYW5rIHlvdSBmb3IgY29udGFjdGluZyB1cyEiLCJmb3JtX3NlbnRfbXNnX2NvbG9yIjoiIzRhZThlYSIsImhpZGVfb25fc3VibWl0IjoiMSIsInJlZGlyZWN0X29uX3N1Ym1pdCI6IiIsInRlc3RfZW1haWwiOiJwbWFjYWZlZUBxc3RjLm5ldCIsInNhdmVfY29udGFjdHMiOiIxIiwiZXhwX2RlbGltIjoiOyIsImZpZWxkX3dyYXBwZXIiOiI8ZGl2IFtmaWVsZF9zaGVsbF9jbGFzc2VzXSBbZmllbGRfc2hlbGxfc3R5bGVzXT5cclxuICAgIDxsYWJlbCBmb3I9XCJbZmllbGRfaWRdXCI+W2xhYmVsXTxcL2xhYmVsPltmaWVsZF1cclxuPFwvZGl2PiJ9LCJmaWVsZHMiOlt7ImxhYmVsIjoiRmlyc3QgTmFtZSAoT3B0aW9uYWwpIiwicGxhY2Vob2xkZXIiOiIiLCJodG1sIjoidGV4dCIsInZhbHVlIjoiIiwibWFuZGF0b3J5IjoiMSIsIm5hbWUiOiJmaXJzdF9uYW1lIiwiYnNfY2xhc3NfaWQiOiI2IiwiZGlzcGxheSI6IiIsIm1pbl9zaXplIjoiIiwibWF4X3NpemUiOiIiLCJhZGRfY2xhc3NlcyI6IiIsImFkZF9zdHlsZXMiOiIiLCJhZGRfYXR0ciI6IiIsInZuX29ubHlfbnVtYmVyIjoiMCIsInZuX29ubHlfbGV0dGVycyI6IjAiLCJ2bl9wYXR0ZXJuIjoiMCIsInZhbHVlX3ByZXNldCI6IiIsImRlZl9jaGVja2VkIjoiMCIsImxhYmVsX2RlbGltIjoiIiwidm5fZXF1YWwiOiIifSx7ImxhYmVsIjoiTGFzdCBOYW1lIChPcHRpb25hbCkiLCJwbGFjZWhvbGRlciI6IiIsImh0bWwiOiJ0ZXh0IiwidmFsdWUiOiIiLCJtYW5kYXRvcnkiOiIwIiwibmFtZSI6Imxhc3RfbmFtZSIsImJzX2NsYXNzX2lkIjoiNiIsImRpc3BsYXkiOiIiLCJtaW5fc2l6ZSI6IiIsIm1heF9zaXplIjoiIiwiYWRkX2NsYXNzZXMiOiIiLCJhZGRfc3R5bGVzIjoiIiwiYWRkX2F0dHIiOiIiLCJ2bl9vbmx5X251bWJlciI6IjAiLCJ2bl9vbmx5X2xldHRlcnMiOiIwIiwidm5fcGF0dGVybiI6IjAiLCJ2YWx1ZV9wcmVzZXQiOiIiLCJkZWZfY2hlY2tlZCI6IjAiLCJsYWJlbF9kZWxpbSI6IiIsInZuX2VxdWFsIjoiIn0seyJsYWJlbCI6IkVtYWlsIChPcHRpb25hbCkiLCJwbGFjZWhvbGRlciI6IiIsImh0bWwiOiJlbWFpbCIsInZhbHVlIjoiIiwibWFuZGF0b3J5IjoiMSIsIm5hbWUiOiJlbWFpbCIsImJzX2NsYXNzX2lkIjoiMTIiLCJkaXNwbGF5Ijoicm93IiwibWluX3NpemUiOiIiLCJtYXhfc2l6ZSI6IiIsImFkZF9jbGFzc2VzIjoiIiwiYWRkX3N0eWxlcyI6IiIsImFkZF9hdHRyIjoiIiwidm5fb25seV9udW1iZXIiOiIwIiwidm5fb25seV9sZXR0ZXJzIjoiMCIsInZuX3BhdHRlcm4iOiIwIiwidmFsdWVfcHJlc2V0IjoiIiwiZGVmX2NoZWNrZWQiOiIwIiwibGFiZWxfZGVsaW0iOiIiLCJ2bl9lcXVhbCI6IiJ9LHsibGFiZWwiOiJOYW1lIE9mIFN1Z2dlc3RlZCBTaXRlIChSZXF1aXJlZCkiLCJwbGFjZWhvbGRlciI6IiIsImh0bWwiOiJ0ZXh0IiwidmFsdWUiOiIiLCJtYW5kYXRvcnkiOiIxIiwibmFtZSI6ImNvX25hbWUiLCJic19jbGFzc19pZCI6IjEyIiwiZGlzcGxheSI6InJvdyIsIm1pbl9zaXplIjoiIiwibWF4X3NpemUiOiIiLCJhZGRfY2xhc3NlcyI6IiIsImFkZF9zdHlsZXMiOiIiLCJhZGRfYXR0ciI6IiIsInZuX29ubHlfbnVtYmVyIjoiMCIsInZuX29ubHlfbGV0dGVycyI6IjAiLCJ2bl9wYXR0ZXJuIjoiIiwidmFsdWVfcHJlc2V0IjoiIiwiZGVmX2NoZWNrZWQiOiIwIiwibGFiZWxfZGVsaW0iOiIiLCJ2bl9lcXVhbCI6IiJ9LHsibGFiZWwiOiJXZWIgQWRkcmVzcyAoVVJMKSBPZiBTdWdnZXN0ZWQgU2l0ZSAoUmVxdWlyZWQpIiwicGxhY2Vob2xkZXIiOiIiLCJodG1sIjoidGV4dCIsInZhbHVlIjoiIiwibWFuZGF0b3J5IjoiMSIsIm5hbWUiOiJ3ZWJfYWRkcmVzcyIsImJzX2NsYXNzX2lkIjoiMTIiLCJkaXNwbGF5Ijoicm93IiwibWluX3NpemUiOiIiLCJtYXhfc2l6ZSI6IiIsImFkZF9jbGFzc2VzIjoiIiwiYWRkX3N0eWxlcyI6IiIsImFkZF9hdHRyIjoiIiwidm5fb25seV9udW1iZXIiOiIwIiwidm5fb25seV9sZXR0ZXJzIjoiMCIsInZuX3BhdHRlcm4iOiIiLCJ2YWx1ZV9wcmVzZXQiOiIiLCJkZWZfY2hlY2tlZCI6IjAiLCJsYWJlbF9kZWxpbSI6IiIsInZuX2VxdWFsIjoiIn0seyJsYWJlbCI6IllvdXIgcHJvZmVzc2lvblwvcGVyc29uYWwgY29ubmVjdGlvbiB0byB0aGUgQWxleGEgc3RhdGlzdGljcyAoT3B0aW9uYWwpIiwicGxhY2Vob2xkZXIiOiIiLCJodG1sIjoidGV4dCIsInZhbHVlIjoiIiwibWFuZGF0b3J5IjoiMCIsIm5hbWUiOiJjb25uZWN0aW9uIiwiYnNfY2xhc3NfaWQiOiIxMiIsImRpc3BsYXkiOiJyb3ciLCJtaW5fc2l6ZSI6IiIsIm1heF9zaXplIjoiIiwiYWRkX2NsYXNzZXMiOiIiLCJhZGRfc3R5bGVzIjoiIiwiYWRkX2F0dHIiOiIiLCJ2bl9vbmx5X251bWJlciI6IjAiLCJ2bl9vbmx5X2xldHRlcnMiOiIwIiwidm5fcGF0dGVybiI6IiIsInZhbHVlX3ByZXNldCI6IiIsImRlZl9jaGVja2VkIjoiMCIsImxhYmVsX2RlbGltIjoiIiwidm5fZXF1YWwiOiIifSx7ImxhYmVsIjoiQ2FwdGNoYSIsInBsYWNlaG9sZGVyIjoiIiwiaHRtbCI6InJlY2FwdGNoYSIsInZhbHVlIjoiIiwibWFuZGF0b3J5IjoiMCIsIm5hbWUiOiJSZWNhcHRjaGEiLCJic19jbGFzc19pZCI6IjEyIiwiZGlzcGxheSI6InJvdyIsIm1pbl9zaXplIjoiIiwibWF4X3NpemUiOiIiLCJhZGRfY2xhc3NlcyI6IiIsImFkZF9zdHlsZXMiOiIiLCJhZGRfYXR0ciI6IiIsInZuX29ubHlfbnVtYmVyIjoiMCIsInZuX29ubHlfbGV0dGVycyI6IjAiLCJ2bl9wYXR0ZXJuIjoiIiwidmFsdWVfcHJlc2V0IjoiIiwiZGVmX2NoZWNrZWQiOiIwIiwibGFiZWxfZGVsaW0iOiIiLCJ2bl9lcXVhbCI6IiIsInJlY2FwLXRoZW1lIjoibGlnaHQiLCJyZWNhcC10eXBlIjoiYXVkaW8iLCJyZWNhcC1zaXplIjoiY29tcGFjdCJ9LHsibGFiZWwiOiJTZW5kIiwicGxhY2Vob2xkZXIiOiIiLCJodG1sIjoic3VibWl0IiwidmFsdWUiOiIiLCJtYW5kYXRvcnkiOiIwIiwibmFtZSI6InNlbmQiLCJic19jbGFzc19pZCI6IjEyIiwiZGlzcGxheSI6InJvdyIsIm1pbl9zaXplIjoiIiwibWF4X3NpemUiOiIiLCJhZGRfY2xhc3NlcyI6IiIsImFkZF9zdHlsZXMiOiIiLCJhZGRfYXR0ciI6IiIsInZuX29ubHlfbnVtYmVyIjoiMCIsInZuX29ubHlfbGV0dGVycyI6IjAiLCJ2bl9wYXR0ZXJuIjoiIiwiZGVmX2NoZWNrZWQiOiIwIn1dLCJvcHRzX2F0dHJzIjp7ImJnX251bWJlciI6IjQifX0sImltZ19wcmV2aWV3IjoidGVhLXRpbWUucG5nIiwidmlld3MiOiIxNzQwIiwidW5pcXVlX3ZpZXdzIjoiMzM0IiwiYWN0aW9ucyI6IjEiLCJzb3J0X29yZGVyIjoiMTAiLCJpc19wcm8iOiIwIiwiYWJfaWQiOiIwIiwiZGF0ZV9jcmVhdGVkIjoiMjAxNi0wNS0wMyAxMjowMTowMyIsImltZ19wcmV2aWV3X3VybCI6Imh0dHBzOlwvXC9yaWRlc2hhcmVqdXN0aWNlLm9yZ1wvd3AtY29udGVudFwvcGx1Z2luc1wvY29udGFjdC1mb3JtLWJ5LXN1cHN5c3RpY1wvYXNzZXRzXC9mb3Jtc1wvaW1nXC9wcmV2aWV3XC90ZWEtdGltZS5wbmciLCJ2aWV3X2lkIjoiMTFfNzI0NDMxIiwidmlld19odG1sX2lkIjoiY3NwRm9ybVNoZWxsXzExXzcyNDQzMSIsImNvbm5lY3RfaGFzaCI6ImU3ZjNhYjdjY2MzOThiY2RiYWU3NzVkODI3ZDRhOTQ1In0=